Cosmetic Dentistry and Cracked Teeth
The type of cosmetic dentistry treatment used to improve the looks of cracked teeth depends on the nature of the crack. Cosmetic Dentistry and cracked teeth can work together, but you first need to determine the type of crack.  Cracked teeth may take on various forms, as follows:
Craze lines represent tiny superficial cracks that only affect the outer enamel of the tooth. The cracks, which are shallow and painless, do not cause any real dental concern beyond their appearance.
If your chewing surface breaks off, a fractured cusp results. The crack usually will not cause much discomfort or pain.
The average cracked tooth extends from the chewing surface, down toward the root. To save the tooth, it is important to diagnose and treat the crack early.
If you let a cracked tooth go for a long time, it can become a split tooth. This type of crack is represented by segments that can be easily separated. Therefore, a split tooth usually cannot be saved totally intact.
A vertical root fracture starts at a tooth's root and extends up to the chewing surface. Root fractures typically are not detected until the surrounding gingivae and bone become infected.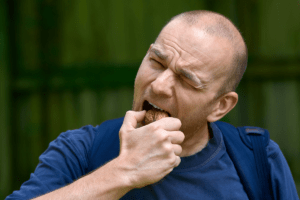 Cosmetic Treatments Used for Cracked Teeth
The following cosmetic treatments often help restore the looks and functioning of a cracked tooth. They include composite bonding, veneers, crowns, and implants.
Composite bonding involves applying a composite resin and reshaping the affected tooth. This cosmetic treatment, which can last as long as 10 years, does not require the use of an anesthesia for the procedure. During the process, the tooth is roughened and a conditioning liquid is added. A composite putty is applied, molded, and smoothed before an ultraviolet (UV) light is used to cure the resin material. After the bonding dries, it is shaped and polished to match the surrounding teeth.
Veneers made from porcelain provide the most realistic look, and, if well-maintained, last as long a 30 years. Veneers can be placed on one or more front teeth.
Crowns can be used to cover chips and cracks, and are often used when tooth pain or discomfort is involved. In this case, you may also need a root canal.
Implants and a crown restoration may also be used to replace a cracked tooth that cannot be salvaged. In this case, the crack may be repaired by removing the tooth and   replacing it with an implant and same-day crown.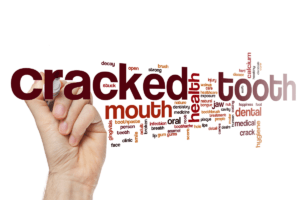 In some instances, tooth structures must be removed to leave enough room for a restoration, such as a crown. It just depends on the nature of the crack and its severity.
You will find having cosmetic dentistry for a crack can help greatly in improving your appearance. Our supportive and experienced dental team is always willing to answer any dental concerns or questions about in-office cosmetic treatments. To schedule an appointment for a professional  exam, and cosmetic work, contact River Valley Smile Center at 479.646.0706 or visit us on Facebook.