Dr. Charles Liggett Jr.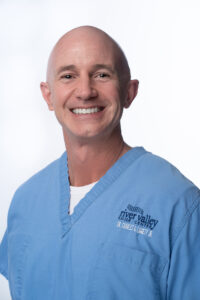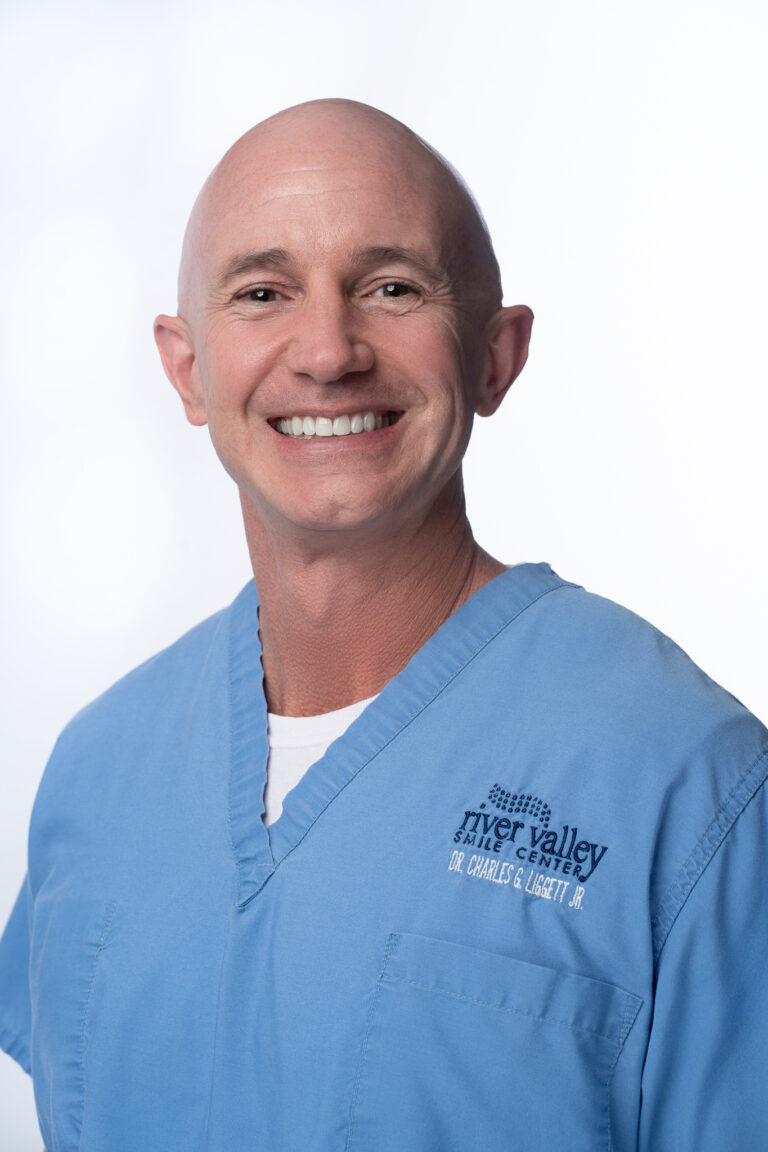 Dr. Charles Liggett grew up in Fort Smith, attending Kimmons Junior High and Northside High School. He then went on to The University of Central Arkansas, in Conway, where he played shortstop for the baseball team and had a double major in General Science and Criminology. After his baseball career was over, he attended the Louisiana State University School of Dentistry, in New Orleans, where he earned his Doctorate of Dental Surgery. While at LSU, Dr. Liggett was lucky enough to have the opportunity to work directly under some of the most well-respected dentists and specialists in the world. Upon graduation, he moved back to Fort Smith and met the love of his life, his wife Heather Anderson Liggett, who is a pediatric dental hygienist. They have two beautiful daughters together, Emery, who is now 14, and Piper, who is now 12.
For Dr. Liggett, dentistry runs in the family. In the past, he enjoyed working with his uncle and cousin at Parklane Family Dental. Dr. Liggett then went on to open River Valley Smile Center with Dr. Becker to provide comprehensive high-quality dentistry for the Fort Smith community. When Dr. Becker moved to South Carolina to specialize in Endodontics, Dr Liggett started a partnership with Dr. Cole Johnson.  They soon built the beautiful, state of the art facility that they practice out of at the current time.
This community is very important to Dr. Liggett. He founded the Weekend Dental Clinic and the Free Extraction Day to provide those in need with free or affordable dental care. The Free Extraction day has been featured on Fox News, in the Chicago Tribune, the LA Times, among other publications. The idea for these projects stemmed from his many dental mission trips to Jamaica (19 to date). Over the course of nearly a decade, Dr. Liggett has extracted thousands upon thousands of teeth and his team has made thousands of dentures and performed a countless number of cleanings. He holds a special place in his heart for the Jamaican community as well. Another issue Dr. Liggett takes very serious is Child Abuse. He has organized and moderated discussions for the local dental community, with experts on the subject, to better recognize and prevent child abuse and neglect.
Dr. Liggett is proud to have been an adjunct faculty member of the University of Arkansas Fort Smith's Dental Hygiene School, where he taught senior students in the clinical environment. He sits on the University of Arkansas Fort Smith Athletic Advisory Board, is past-president of the Fort Smith Dental Association, a member of the Fort Smith Dental Association Executive Committee, President of the Northwest Arkansas Dental Society, a member of the American Dental Association, elected member of the Executive Council for the Arkansas State Dental Association, American Orthodontic Society, Academy of General Dentistry, Jamaican Ecumenical Mutual Mission, St Augustine Mutual Mission, the Independent Physicians Alliance, the Academy of General Dentistry, and the Academy for Sports Dentistry. Additionally, he is a member of the Fort Smith Boys and Girls Club Alumni Association, official team dentist to the UAFS, Northside, and Kimmons.
In April of 2013, Dr. Liggett was inducted as a fellow into the prestigious Pierre Fauchard Academy. PFA is an organization that focuses on professionalism, integrity, and ethics worldwide. Less than 1% of dentists in the United States have been elected into this elite group.
In March of 2014, Dr. Liggett was elected to sit on Delta Dental's Dental Advisory Committee.  This gives Dr. Liggett a chance to communicate, directly to those in charge of the state's largest insurance carrier, ways to improve the current status quo.
In October of 2014, Dr. Liggett was inducted as a fellow into the International College of Dentists. The ICD is the oldest and largest international honor society for dentists in the world. There are over 12,000 members in 122 countries.
In April of 2015, Dr. Liggett was presented with a Community Service Award from radio station KISR. The same month he was given the New Dentist Award for exemplifying outstanding leadership in varied levels of organized dentistry and for his commitment to represent dentistry in an ethical manner.
In November of 2015, Dr. Liggett was inducted into the American College of Dentists. The American College of Dentists (ACD) is the oldest major honorary organization for dentists.
In 2018, Dr. Liggett graduated from the Kois Center.
Dr. Liggett is elated to be back in Fort Smith where he focuses his free time on playing the drums in a local band, attending concerts and music festivals, CrossFit, playing golf, cheering on the Arkansas Razorbacks, and enjoying life in the natural state.
Dr. Cole J. Johnson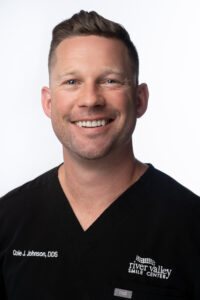 Dr. Cole J. Johnson was born and raised in Fort Smith, Arkansas and was a Southside rebel.  Dr. Johnson received a Bachelors in Chemical Engineering, graduating Cum Laude from the University of Arkansas, Fayetteville. While at the U of A, Dr. Johnson met his best friend and wife Jo Tynon Johnson, who is now, an ER Nurse at Baptist Hospital.  After graduating, he pursued his first passion working as a Research Process Engineer for E and J Gallo Winery in central California.
Very quickly Dr. Johnson realized that he wanted to go back to school to be a Dentist.  Dr. Johnson comes from a "Dental Family." His father, George J. Johnson Jr, has practiced in General Dentistry in Fort Smith for 40+ years at Willow Creek Dental Clinic.  His brother, Chad Johnson is an Orthodontist in North Carolina, and his Brother-in-Law is a General Dentist in Bethel, Alaska.
Dr. Johnson attended LSU Dental School in New Orleans, Louisiana for his Doctorate in Dental Surgery.  He was the President of his class and graduated ranked fourth in his class. During his time at LSU, Dr. Johnson was very active in dental research and was awarded two trips; one to Memphis and the other to Washington D. C. to present his dental research. He graduated with honors from LSU and was awarded with many accolades at his graduation ceremony including; Southern Academy of Prosthodontics award, American Academy of Esthetics award, and a special scholarship awarded by LSU's Dean, Henry Gremillion DDS, to attend the Dawson Academy, for demonstrating his superior clinical performance at the LSU Dental School Clinic. The Dawson Academy is a world renowned academy for advanced dental education.
After graduating Dental School, Dr. Johnson furthered his dental education in Birmingham, Alabama, completing a 1 year Advanced Education in General Dentistry residency. While in Birmingham, Dr. Johnson worked exclusively at the VA Hospital Dental Clinic, providing care for America's War Veterans.  Dr. Johnson focused his efforts on achieving an IV sedation license and Implantology.
As a proud American Dr. Johnson has a passion for the armed services and is a Major in the Arkansas Army National Guard. He serves as a Dentist at Camp Robinson Medical Command in North Little Rock one weekend every month. He has also served as Secretary of the Fort Smith Dental Association, an active member of the Academy of General Dentistry, Arkansas Dental Association, International College of Dentists, and American Dental Association.
Dr. Johnson joined the River Valley Smile Center team when he moved back to Fort Smith in 2013. He also works in his father's dental office part-time.  He is the proud Father of two boys; River and Atlas. Through all his travels, Dr. Johnson has remained a dedicated Razorback fan. In his free time, he enjoys flying his para-glider, vegetable gardening, paddling, fishing, and camping with his family.